Commercial Acoustics provides expert soundproofing and acoustic advice and products for a variety of businesses. Here's a look at an In-Home Studio that we helped design and build. For a step-by-step instruction on how to design and build your own home studio, read through our Home Music Studio tutorial.
---
Project Gallery
See Our Client Demonstrate the Soundproofed Studio Control Room Above
Project Overview
We were approached for this project in April 2016 to help a band develop an in-home studio with adequate sound-blocking and premium acoustics, with a mid-sized budget.
The studio was to be placed in a garage structure, just off the main house, making the vibrating structure-borne noise between the two units much less of an issue than typically seen in home music studios. When possible, we always suggest that clients use separate foundations for their primary abode versus that used for the music studio, and an effort to minimize this structure-borne noise.
The garage was relatively old, but the planks were in good condition, precluding the need to completely cover the exterior structure in sound-blocking materials. Our design included two primary areas – a larger recording room, and smaller tracking room. The recording room would be used during the day, when noise ordinances are easier to abide by, while the inner control room would be reinforced so that high-amplitude music could be mixed and edited at any hour. Therefore, acoustic treatment was critical in the recording room to minimize unwanted reverberation, while sound-blocking was essential to the control room to prevent noise from disturbing neighbors late in the evening.
Our client built much of the framing himself, reducing labor costs on the project. Construction began in the two-car garage by first rolling out carpet cushioning, to prevent sound from transferring directly into the concrete floor. Floating floors were created using 4' x 8' shipping pallets topped with carpet padding sheets and plywood on top. The walls are standard framing with studs placed approximately 23.5″ apart for the purpose of fitting the 24″ wide (4″ thick) foam sheets (for absorption) in between each stud.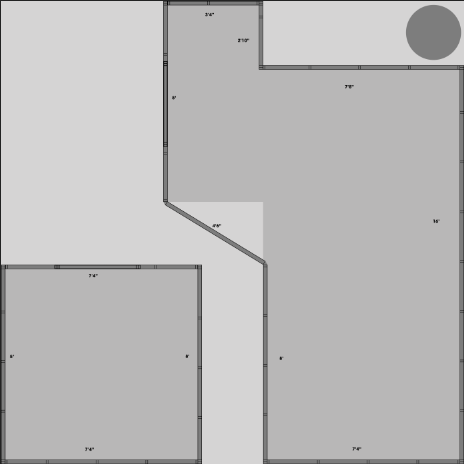 In the control room, plywood was selected for cost-effectiveness, although heavy drywall is preferred where possible. We applied Wall Blokker Pro material between the studs and the plywood on the control room exterior. This same application may also be applied to the interior of the control room to further soundproof it. In this case, the control room was completely inside of the garage structure itself, a situation known as RWAR, or Room Within A Room. Due to this unique circumstance, we were able to minimize cost to the client by leaving the inner
Once all sound-blocking walls were constructed, we installed the foam between studs and on the ceilings, as well as thick carpeting on the ground. The inside walls were then covered in African wax print fabric to allow the sound to pass directly in to the foam for absorption.
The final result was a two-part in-home music studio, with separate recording and control room areas. The absorption quality in the recording room is extremely high, with a reverberation time of approximately 0.3 secs, which is essentially a "dead space". The band is able to mix and edit music deep into the evenings due to the walls yielding an STC of approximately 65. Since installation, there have been no complaints from neighbors due to late-night noise.
Project Totals
The total cost of the project was approximately $5,500, with most of it invested in the foam absorbing panels, then wood framing and Wall Blokker material. The framing and flooring took several days for the client to install, and the sound-blocking products took approximately 1 full day for 2 men.
Although Home Studios may range in price from $2,000 all the way to hundreds of thousands, Commercial Acoustics aims at offering our clients a range of options to best meet their needs and fit their budget. Call us today for a free consultation on your project.
Step-By-Step Buildout of the Soundproofed Home Studio [Slideshow]
---
Learn More About How You can Soundproof Your Home Studio today – Get a Free Quote from our Soundproofing Experts or use our Product Selector Tool to choose the perfect soundproofing products for your home studio.