Commercial Office Sound Masking Systems are an ideal solution when speech privacy is needed and sound isolation options are limited. This is often the case in Open Offices, Commercial Spaces with ACT Ceilings, or Coworking Locations.
Sound Masking is not an active noise cancellation technology. Rather, it provides a background ambient noise that increases the noise level across the space with a blended white noise and pink noise spectrum. By doing so, it makes other conversations and noises less audible to the listeners. This decreases distractions and frustration on behalf of workers that cannot focus due to nearby noise sources.
Sound Masking is most effective when installed on the "receiver" side. If there is loud mechanical or HVAC equipment, or a human-based noise source, the sound masking should go on the side of the partition where the listener is inconvenienced by the noise.
Sound Masking Overview:
Each Unit Covers Approximately 200 Square Feet
Low Voltage (5V) & Energy Efficient
Expert Support for System Design and On-Site Balancing & Tuning
Tuning to +/- 0.5 dB. Done in field based on plenum to wall heights.
Standard Sound Masking Spectra, as well as White Noise & Pink Noise Capabilities
Standard Add-Ons: Remote Control for Volume Adjustments
Optional Add-Ons: Central Control for Ramp-Ups and Daily Fluctuations
Mass Notification, Paging, and Audio Capabilities
ASTM standards for speech privacy as well as spatial and temporal uniformity of sound. UL listed for use in the plenum
Primary Sound Masking Applications:
Designed to meet local codes with field-adjusted flexibility for a variety of site conditions
Open Plan Environment: Libraries, Call Centers, Reception Areas
Closed Plan Environment: Private Office, Corporate Sites, ACT Ceilings
Valid for Retrofits or New Construction
Sound Masking Specifications:
Paging Input: 25v RMS at 12.5mW (50kOhms)
Power Requirement: 16v/18v AC, 60 Hz at 50mA
With Paging: Up to 200mA
Output Adjustment: 15dB step-volume control
Additional continuous control (56-86 dBA total), plus a central volume control that can control up to 50 masters for an additional attenuation of 15dB
System can be tuned to +/- ½ dB
Compromised of at least 50% recycled Aluminum and recycled plastic content
Maximum speech privacy meets ASTM E-1130 standards for speech privacy and sound uniformity
Sound Masking Speakers – Product Performance:
LM6/ LM4: 56-86 dBA (measured at 1.5' from speaker)
Spectrum ranges from 1dB at 125 Hz to 20dB at 8,000 Hz
Sound Masking sources can produce 20Hz through 20,000Hz
Works in conjunction with a sound engineers diagnostic and analyzing tools for sound masking and paging
Conforms to ANSI standards
Meets ASTM E-1130 standard for speech privacy and sound uniformity
UL Listed for air handling space
For More Information, see How Sound Masking Works
Summary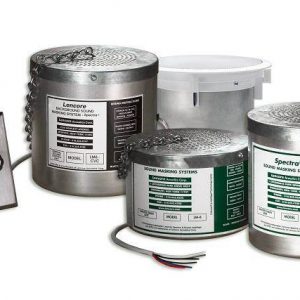 Author Rating





Brand Name
Product Name