Acoustically enhanced gypsum board, such as Quiet Rock or SoundBreak, is commonly used in the construction of high STC (sound transmission class) wall and ceiling assemblies. It contains a viscoelastic gel layer in the center which is sandwiched between two thin drywall layers. Uses include but are not limited to educational, healthcare, commercial and multifamily projects.
While they are ideal if space constraints are critical, there are other products that achieve a higher STC at a fraction of the cost if small footprint concessions can be made.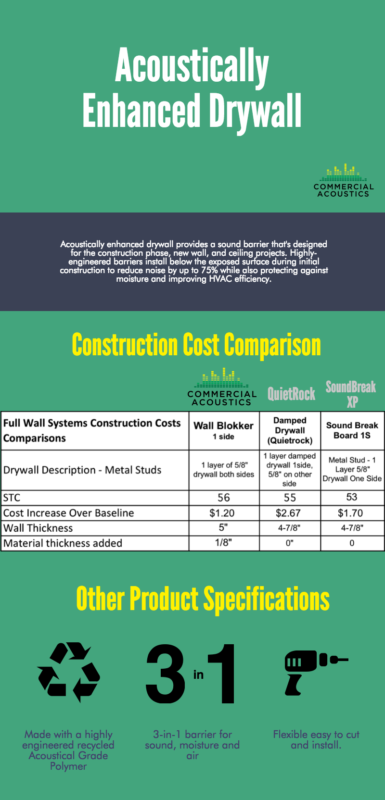 Soundbreak and QuietRock Alternatives
SoundBreak and Quiet Rock drywall does have its pros. They get hung like traditional drywall for a 'fool-proof' installation every time, unlike resilient channel which has very challenging installation requirements. The material cost, however, is 5x more expensive than traditional drywall, and due to the core density, the weight of the product often causes increased labor costs from contractors. Whereas acoustical drywall is approximately 2 lbs per square foot, many EVA membranes are approximately 1 lb per square foot, and therefore much more easily maneuvered at height.
When analyzing cost and effectiveness, a strong VE (cost-saving value engineering) option for this product is a soundproofing membrane which would get hung on metal or wood studs underneath traditional drywall. Instead of paying a premium for a gel barrier within the drywall, installing both pieces separately will save substantial cost. The Wall Blokker soundproofing membrane combined with traditional 5/8" drywall will outperform acoustically-enhanced drywall by 3-5 STC points on the same assembly, roughly saving $1.70/sf vs. Sound Break XP. See data below: