Hotel Soundproofing from Roads and Highways
A Residence Inn location was having problems with their guests complaining about highway noise in their rooms. The hotel had not done any acoustical testing nor treatment in the past, so it was not surprising that car noise would enter the rooms and disturb guests. This is often an overlooked problem by many hotels, including ones that are high-end. Since there are not many acoustical consultants offering either proper testing nor proper materials, most hotel managers are forced to tell their guests there is nothing that can be done to reduce noise in their room. However, there are simple solutions that are not only effective but also affordable for all types of hotels.
When we arrived at the location, we asked what rooms had the most noise complaints. We made our way to that area and started testing the acoustics. After we tested the sound coming into the room, we made our final analysis and came up with a solution for our client.
See Hospitality Soundproofing Projects
Hotel Soundproofing Options
We realized the main problem for this hotel was the sound leaking through the windows. Our team recommended they hang soundproofing curtains over their windows to seal any noise "leaking" through cracks or small openings in the windows. Soundproofing curtains are made up of MLV (mass-loaded vinyl) which is designed to block unwanted noise by up to 75%.
After installing the soundproofing curtains, the noise coming in from the highway as well as noise complaints from guests were significantly reduced. By teaming with the client's engineering and maintenance team, we were able to deliver a cost-effective solution within budget that has solved the majority of noise complaints that the hotel previously encountered.
Summary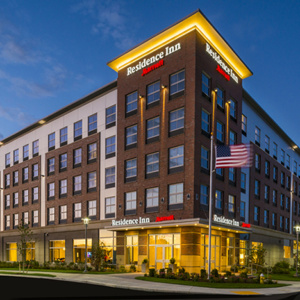 Article Name
Residence Inn Highway Soundproofing
Description
Hotel Soundproofing is critical to ensure guest satisfaction. See a Case Study of soundproofing methods from nearby roadways.
Author
Publisher Name
Publisher Logo