Hotel Soundproofing Case Study with Wall Blokker Pro on Wood Studs
Commercial Acoustics has been contracted by Winter Park Construction to supply and install over 60,000 square feet of soundproofing in the new La Quinta construction project in Orlando, Florida. The 4 story signature hotel, designed by L2 Studios, initially called for Soundbreak Board, a common soundproofing gypsum material. However, a switch to Wall Blokker Pro offered significant cost savings, while also increasing the STC of the Hotel Wall.
See Our Detailed Analysis on Cost Saving and Alternatives from Soundbreak and Quiet Rock
Wood Stud STC Performance
Generally speaking, wood stud assemblies perform 6-10 STC points lower than equivalent metal stud assemblies. While 2×6 studs increase the cavity depth, and thus the thermal performance of a wall when filled with batting, the increase to 2×6 studs does not greatly affect the soundproofing performance of the assembly. It is much more effective to stagger the studs, or move to 24 inches on center.
Wall Blokker Pro is best used on wood stud configurations that require additional dampening and decoupling than their metal stud counterparts. While conventional soundproofing materials are acceptable on metal studs, additional decoupling is required on heavy-gauge metal or wood studs to increase the dampening of the system. Hung on just one side of the wall, the STC performance of the assembly achieved STC 55+. Rolls were pre-cut at the manufacturing plant to streamline installation, allowing each room to be completed by 2-man teams in less than 30 minutes.
The installation crews generally used air compressors with staple guns to secure the material to the studs, then taped any seams that did not meet on the studs. As specified, the material is adjoined with butt joints, rather than overlaps, and no taping is required when seams are met on the studs. At 48″ wide, all joints should line up with studs at 16″ or 24″ on center.
By providing a cost-effective and timely solution to Winter Park, Commercial Acoustics was able to deliver a high-STC, affordable product to the end customer.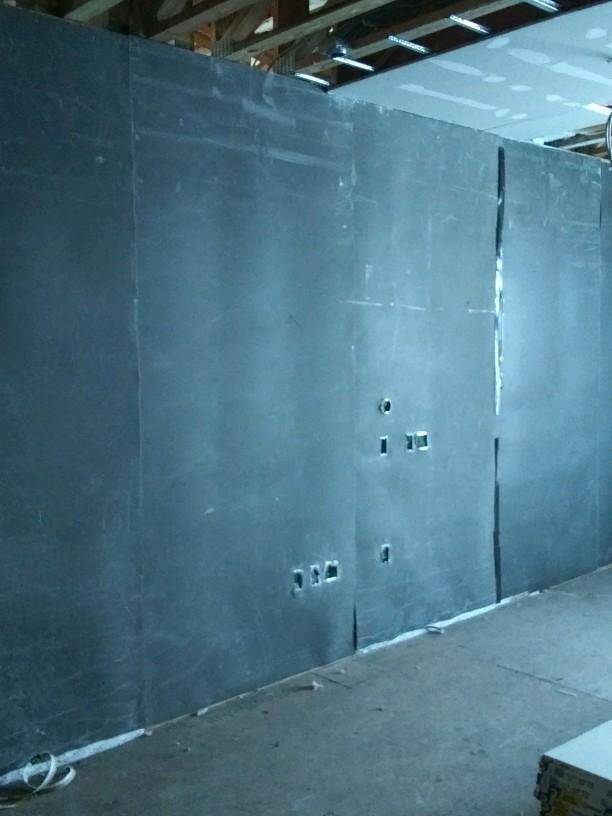 Looking to Soundproof a Hotel? Learn more about our Hospitality Soundproofing Solutions